This lesson marks the first in a series in which we will discuss Yahweh's Torah. I hope to lay a firm biblical foundation concerning God's instructions for His followers and how we see this message consistent throughout the Scriptures. My prayer for each reader harmonizes with the Psalmist:
Psalm 119:18
Open my eyes, that I may behold wondrous things out of your law.
As we begin, I want to ask you a few questions. Take the time to answer these to the best of your understanding. We will revisit these questions throughout this series as an attempt to mark growth in our knowledge and understanding of God's Word.
Why did Yahweh give His law to His people?
What function should God's law have in the life of a faithful follower of Yeshua (Jesus)?
Write your answers down, revisit them often, and always remain teachable.
Different Interpretations of Torah
When someone says "Torah", they could be meaning a multitude of things. First, let's take a look at each different interpretation and the ideas that accompany each usage of torah.
In its most limited, yet most often usage, the word Torah denotes the first five books of the Bible (i.e Genesis, Exodus, Leviticus, Numbers, Deuteronomy). In Hebrew, we call these books "the Torah". In Greek, these books constitute the "Pentateuch" (meaning five books).
Additionally, Torah can imply, not only the first five books of the Bible, but all of the written instruction in the Tanakh (Old Testament). This connotation includes the Oral Torah as well, which we will address in other lessons.
Finally, Torah can mean any of Yahweh's instructions, teachings, commands, and laws. This interpretation comes from the translation of the root word of Torah, "yara" (יָרָה). I prefer this interpretation of Torah. Not only does it form the framework for my writings, it forms the framework for my life. Let's study this interpretation a bit more.
To Cast Forth
Imagine for a moment that you are a competitive archer. Your relentless training consists of repeatedly casting forth an arrow from your bow to hit a very specific, and often times small, area on a target. What's even more impressive is that due to your diligent practice you possess the ability to hit your mark from almost any distance. You arrived at this success because you trained yourself to let the arrow fly on the path it needed in order to hit the target.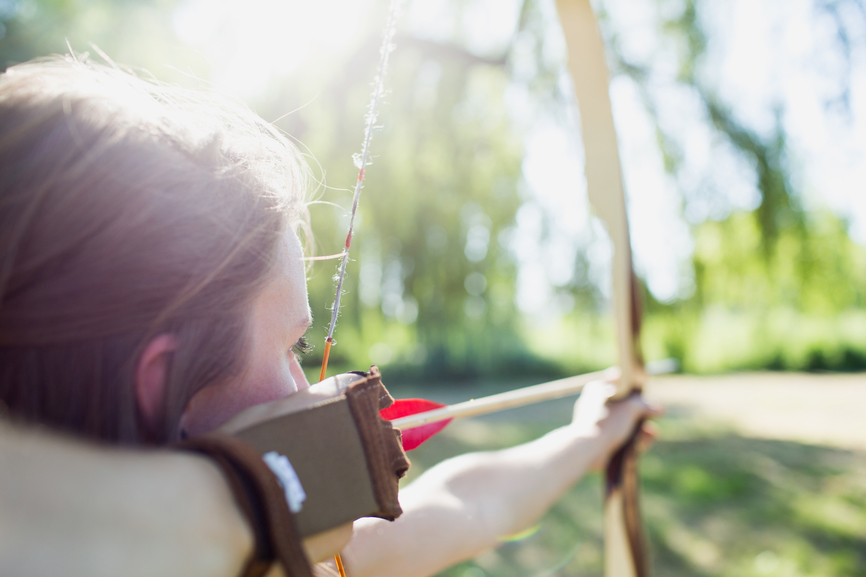 This example furnishes us with an excellent example of what life as a faithful follower of Yeshua (Jesus) looks like. You are the archer of your life, repeatedly trying to hit the mark that God has set for you in His Son. Yet all too often so many people that I talk with feel like they can't even get close to the goal. Many today admittedly lack the strength to even keep trying. I believe one of the chief causes for failure in the lives of believers lies in the fact that we have been taught that God's laws do not apply to us.
"Torah is the path that we should walk if we desire to hit the mark that God set for us."
Yara (יָרָה), as previously mentioned, composes the root word for torah. It means "to cast forth (as an arrow); to flow (as water)". So reexamining our previous example, yara is the path that the arrow flies in order to hit the mark on the target. Torah derives its meaning from this idea. Torah is the path that we should walk if we desire to hit the mark that God set for us. God's Torah consists of His teachings, instructions, commands, laws, decrees and requirements. Some limit Torah to the Old Testament only, yet Torah contains the whole of God's words, from Genesis to Revelation.
Hit Your Mark
When hitting your target with an arrow, the margin for error remains tremendously small. Yet professional archers strike their targets with amazing accuracy. How? By knowing which path their arrow needs to take.
Our loving heavenly Father knew that in life, achieving the goal of being "holy, as He is holy" would seem almost impossible. So what did He do? On top of defeating our chief enemy, sin, via the cross and resurrection of the His Son, He showed us exactly the path we need to walk to hit the mark. Abba's (Father's) Torah functions to show us how we ought to live. If we choose to walk this path of obedience we will reach the goal.
Philippians 3:14
I press on toward the goal for the prize of the upward call of God in Christ Jesus.
To Flow As Water
Another aspect of Torah reveals itself in the imagery of water flowing to bring life to an area. The scriptures use water often to illustrate an aspect of God's instructions and teaching that we may otherwise have failed to see. Just as water compromises the building blocks of life, God's torah brings life. Listen to how the prophet Isaiah compares God's Word to rain that yields life:
Isaiah 55:10-11
10 "For as the rain and the snow come down from heaven and do not return there but water the earth, making it bring forth and sprout, giving seed to the sower and bread to the eater, 11 so shall my word be that goes out from my mouth; it shall not return to me empty, but it shall accomplish that which I purpose, and shall succeed in the thing for which I sent it.
Mark this passage because we revisit it in the next lesson when we look at what God purposes for His torah. Note that this passage shows that water and God's Word produce life when received. Additionally, let's look at the Psalmist comparing the person who loves God's torah to the tree planted by rivers of water:
Psalm 1:1-3
1 Blessed is the man who walks not in the counsel of the wicked, nor stands in the way of sinners, nor sits in the seat of scoffers; 2 but his delight is in the law of the Lord, and on his law he meditates day and night. 3 He is like a tree planted by streams of water that yields its fruit in its season, and its leaf does not wither. In all that he does, he prospers.
Clearly we see the result of the man who loves God's Torah: blessing and prosperity! Do not mistake this prospering with the cheap counterfeit that is preached today from men who suppose that godliness is a means of gain. Instead, this blessedness yields the peaceable fruit of righteousness!
Our Father desires for us to be blessed. He wants us to know Him and experience the fullness of all that He has. The only means by which we enjoy Him and abide in Him is through His Son, Yeshua. So the question presents itself: how do we abide in Yeshua?
John 15:7-11
7 If you abide in me, and my words abide in you, ask whatever you wish, and it will be done for you. 8 By this my Father is glorified, that you bear much fruit and so prove to be my disciples. 9 As the Father has loved me, so have I loved you. Abide in my love. 10 If you keep my commandments, you will abide in my love, just as I have kept my Father's commandments and abide in his love. 11 These things I have spoken to you, that my joy may be in you, and that your joy may be full.
Yeshua teaches that we must obey His commands if we expect to abide in Him and bear much fruit. His commands come straight from the Father and have been there since the beginning; the Torah.
Final Thoughts
Consistently throughout Scripture God tells us to walk the path of obedience to His commands. Initially, we defined torah as any of God's teaching or instructions throughout His Word. Then we examined how torah serves as the light on the path of obedience to God. It reminds us of the path an arrow must take in order to hit its mark. Next, we saw how God's torah flows like a river, and those who delight in His laws will prosper. Finally, we remember the words of our Lord Yeshua, if we keep His commands we will abide in His love.
Psalms 19:7-11
7 The law of God is perfect, reviving the soul;
the testimony of God is sure, making wise the simple;
8 the precepts of God are right, rejoicing the heart;
the commandment of God is pure, enlightening the eyes;
9 the fear of God is clean, enduring forever;
the rules of God are true, and righteous altogether.
10 More to be desired are they than gold, even much fine gold; sweeter also than honey and drippings of the honeycomb.
11 Moreover, by them is your servant warned; in keeping them there is great reward.
In the next lesson we dive further into the idea of Torah's function. A blessing or a curse?